What a year it's been, we're having a look at Tenzo's 2020 results. We started 2020 growing 10% month-on-month and gearing up to expand the team to take full advantage of the numerous enterprise pilots we were running and to serve our ever-expanding SME customers in 10 different countries.


Though we were hearing about a novel virus in Wuhan, like most did not think much of it. That is until the UK announced its first case at the end of January – it all started moving very quickly from that point on, with Italy and France announcing lockdowns and the UK following shortly after.

The year has certainly been unprecedented (our new favourite word) and things are far from normal, but we wanted to take a moment to look back on 2020 and celebrate some of the wins that have made this year the best in Tenzo's history so far!

1) We will end the year with more customers than at the start

This has to be the biggest win of the year. Despite Covid and subsequent lockdowns heavily affecting the restaurant industry, our customer base still increased by 15%. Even in the depth of the first lockdown, we were signing new customers! We have focused our customer acquisition strategy on three main targets:


1. Asia – although the explanations for why vary, it is clear from our customers that they are not feeling the impact of COVID as badly as those in Europe or in North America. We now have a number of paid pilots and customers in Malaysia, Singapore & Hong Kong.


2. Dark or cloud kitchens – the biggest trend to come out of lockdown, dark and cloud kitchens need analytics and good forecasting just as much as traditional restaurants. We are having conversations with large cloud kitchen operators across the world and have been helping a number grow in the UK.


3. Enterprise businesses – data that is coming out of China suggests that unfortunately many mom & pop restaurants have closed down permanently but that recognisable brands are thriving.


2) We helped increase Nando's labour productivity by 15%
Our work with our enterprise clients has shown some great results especially in the realm of more accurate sales forecasts.

By reducing their forecast error by 25% and putting a mobile-enabled labour planning process in place, we have improved the labour productivity (i.e. sales per hour of labour paid) for Nando's in Singapore and Malaysia by 15%.

3) We supported Qoot in making an additional £365,000 of revenue
Not only were we able to help Scot Turner, VP of Operations at Qoot save 15% in labour costs, we helped them identify opportunities to add revenue from his existing estate – Tenzo's BI tool has helped Qoot clock up £365,000 in additional revenue. Read more about this case study here.


4) Our partnership program increased by 100%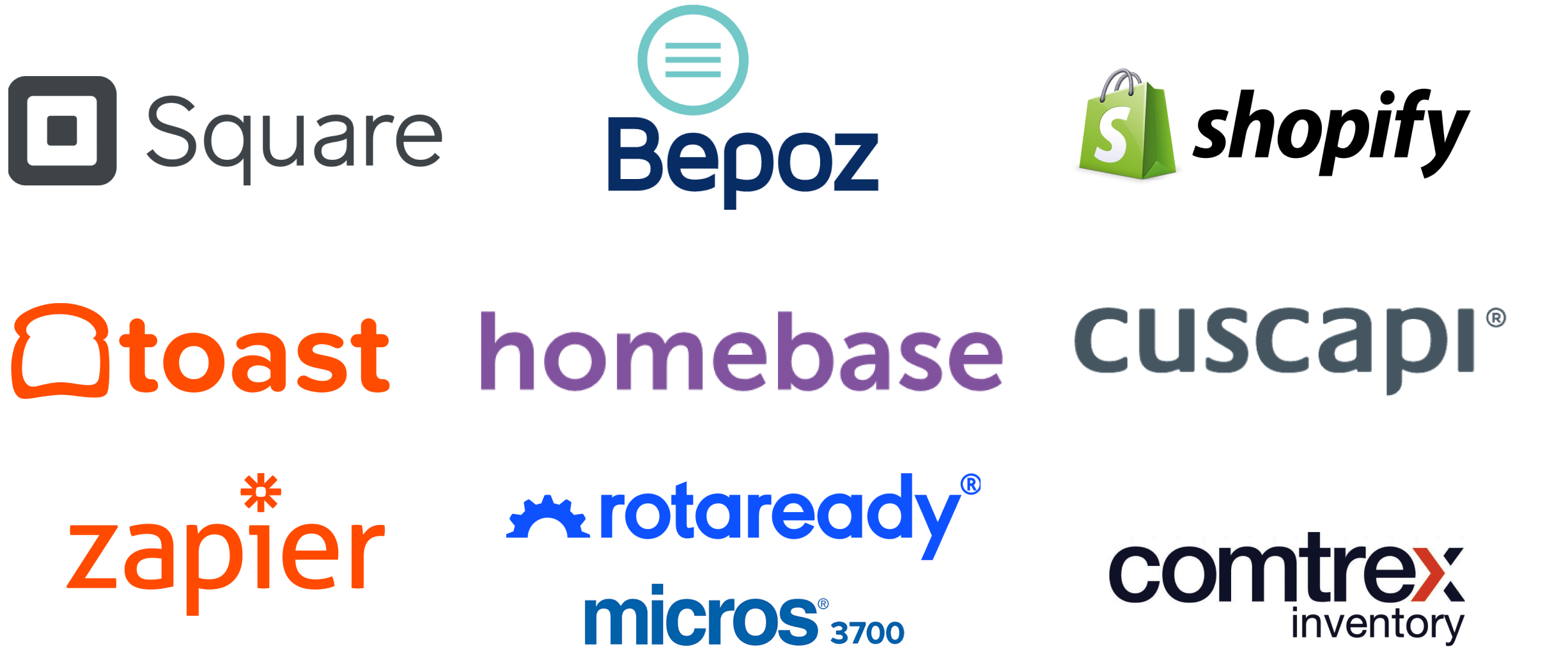 Partners are at the heart of what Tenzo does: we pull data from a large selection of partners, whether that's POS, labour schedulers or inventory tools, to bring together these sets of data in one unified view for our customers.


We've focused on improving relationships with our close partners this year – doing webinars, podcasts, blogs, email campaigns, case studies, and more together with them. We also launched a partner Slack to help ease communication between Tenzo and all of our fantastic partners.

We realised that our product can help them to solve the pain that they were feeling when trying to help their customers get access to their data. Partnership referrals are now our top lead source and we will be doubling down on this in 2021.

New partners this year include Square, Toast, Zapier, Shopify, RotaReady and many more.
5) We're helping the restaurant industry save £100m by 2025 with the help of Innovate UK funding
We were successful in our application to Innovate UK to help restaurants minimise on food waste. We're very excited at the prospect of partnering with Innovate UK to help the hospitality industry save over £100m in food waste by 2025.
6) We grew our blog readership by 8x
We wanted to do all we could to help our customers navigate this new reality and as part of that wrote guides and shared insights about how to adapt. This came in the form of our blog as well as our podcast. Some of our most read pieces include how to optimise your restaurant's online presence, tips on starting dark kitchens, and how your Tenzo toolkit can support you. Our readership grew 8x over this period generating an incredible amount of high-quality leads.

7) Our NPS score nearly doubled this year!
In 2020 we did everything we could to support the industry. Given that we have first-hand experience in running restaurants, we knew that bills would be impossible to pay with no revenue coming in.


We didn't want to add to this pressure, so we quickly told our customers that we would pause their billing if they were closed. We also wanted to help our customers adapt to this new situation as we felt that it was going to change habits for good, so we launched a weekly newsletter just for them with our latest tips on how to get their products and services to their customers.


One of our core values is that we are customer obsessed – by making sure that we did the right thing for the customer our NPS score went from 31 to 57.5!
8) We released loads of new features
Turning to product, our strategy was twofold:

1. Making it as easy as possible to get Tenzo users set up


2. Making sure we are enterprise ready.


Understanding that our biggest problem was getting data into Tenzo in a scalable way allowed us to focus on building the 'data manager', a tool that will load data into Tenzo more quickly, easily and accurately than ever before. Over the past 6 months we have spent a good deal of time building out the ETL infrastructure that supports this new 'data manager'.

To further reduce the time it takes to onboard new customers, we built new tools for customer success including an admin portal, budget loader, report card discovery tool and many more.

In order to be enterprise ready, we have built out a number of components:
OAuth / Single Sign-on (the ability for customers to use recognised sign in services such as Google or Microsoft to avoid their users having multiple logins that they need to remember)

Sharding (the ability to break up one's data into two or more smaller chunks, called logical shards, which will allow us to scale infinitely)

Micro-services (to enable a more scalable approach)
We have had a number of lovely reviews from our customers on TrustPilot this year including from Robb at Upham Group, Thom at Pizza Pilgrims and Scot at Qoot. We'd like to thank all our customers for their continued support!
10) Our wonderful team has started growing again
None of this would have been possible without our wonderful team! They have been incredibly resilient this year. They have helped us set the tone for what Tenzo will be like going forward by refining our core values and making sure we are the best we possibly can be. We're so excited to be adding new members to the team to help us grow in Asia, deliver more savings for our customers and bring on new restaurant chains into the Tenzo family!

Looking forward to 2021, we are more excited than ever about Tenzo's prospects. We will finish the year with higher revenue than at the start, we have secured funding from Innovate UK for our product, we've had great feedback from our customers, we have a number of ongoing conversations with global food brands as well as small & medium chain restaurants and, most importantly, a wonderful team that works tirelessly to achieve these incredible results.