Using Tenzo with Planday Reporting
Planday is, without a doubt, one of the best labour scheduling software options on the planet, but its
power can be further enhanced through its
integration with Tenzo.
Extend the reach of the Planday reporting suite to save even more time and money.
Automatically combine your labour data with data from your POS and other systems. See all your data in one place
Allow Tenzo to predict how many staff members you will need for each hour of every day – using machine learning that combines your Planday data with your sales data.
"With Tenzo and Planday our customers get a complete overview of their business. Data insights from Tenzo help them make better scheduling decisions in Planday."
Philip Wylonis
Director of Partnerships
Planday
AI forecasting
Tenzo's AI forecasting engine allows us to create forecasts that are 30-50% more accurate than a typical 4-week average. Our engine looks at your past sales, weather, seasons, holidays, and more, and works out how each of these factors affect each one of your locations. Using our hyper-accurate sales forecast, we are able to break sales down into hourly segments.
The bottom line: under and overstaffing can be reduced easily, saving you money and time.
No more schedule mistakes: Mobile alerts when you are going to be under or overstaffed
After you have put your shifts into Planday, Tenzo takes this information and compares it to our AI sales forecast, sending you a timely warning notification if you have too many or too few employees scheduled-in for a future shift. Your GMs can make adjustments on-the-go on any device and receive push notifications with our recommended adjustments.
But what if the weather changes after I make my schedule? We have you covered. Tenzo even takes into account ever-changing factors such as weather and events, figuring out how these will affect your plans even as the changes occur. Sudden change in the forecast to heavy rain? No problem. We will let you know ahead of time if this means you will now be overstaffed or understaffed.
Multi-site reporting
Running multiple locations? Tenzo's integration with Planday lets you see integrated cross-location reports. Planday lets you schedule staff based on departments or locations, meaning you can see how your labour costs differ between locations in one place. Dig deep into the differences between your locations, find star performers and get the deeper data you need to make smarter decisions with Tenzo and Planday.
Note: Using different POS systems at your different sites? No problem – we can even give you integrated reporting for all your sites if each store is using totally different systems.
Unlock powerful metrics
Labour costs
Want to know your exact labour costs as a percentage of sales throughout the day? Plugging Tenzo into Planday allows you to do just that. Want to visualise your cost of labour versus your total sales for each of your locations? Tenzo has a graph for that.
Staffing levels
Tenzo can also show you your usual staffing levels at any given hour of the day, and over any given time period. This enables a more complete view of staff scheduling; you can easily spot staffing anomalies and solve them.
Powerful labour metrics
Another powerful Tenzo labour metric is planned-versus-actual-labour. See where your team diverged from the schedule, and act on these insights to make future schedules better – cutting down on those morale-sapping times when staff must be sent home early, or called in on their day off.
Who is Planday?
Planday improves the lives of shift workers and their employers across the globe, with a revolutionary workforce collaboration platform. Its easy-to-use, flexible platform empowers both managers and employees to collaborate and work more efficiently by increasing transparency, open communication alongside integrated business tracking and reporting.
In reducing administrative barriers, Planday helps businesses scale, saving time and money on admin, while still maintaining authentic employee engagement — helping them focus on things that matter. This approach has made it a leading workforce scheduling platform, with hundreds of thousands of people using Planday to power every day with greater productivity and returns.
For current Tenzo customers
Tenzo users benefit from using Planday – one of the most modern systems in the world. Planday is an excellent choice that works seamlessly with Tenzo. Planday sends us data at regular intervals meaning that your Tenzo reports are always up to date, showing the latest data from your tills. Contact your Tenzo account manager for more information.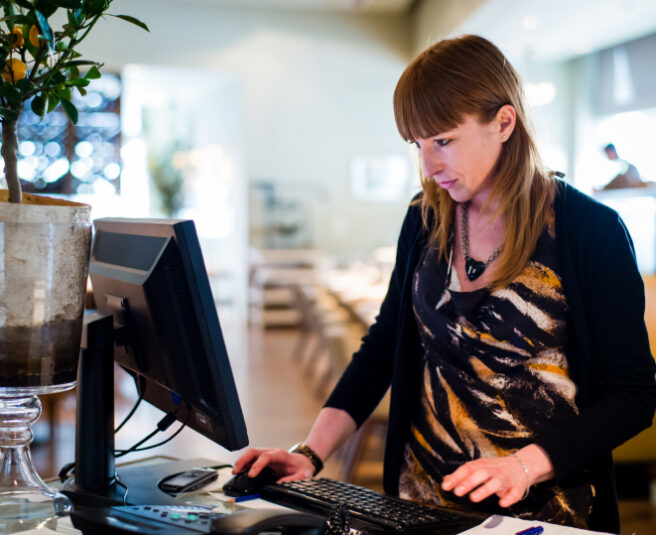 Tenzo lets you connect to…
POS
Lightspeed R Series
Abacus
Ancon
Felix Informatique
Accounts IQ
Munu
Par
Zonal
Comtrex
Bleep
Centegra
NCR Aloha
Adora
Lightspeed K Series
Oracle Micros
Tevalis
Polaris
Toast
Zettle by Paypal
TISSL
Transight
Givex
Shopwave
SpotOn
Revel
HungerRush
Bepoz
SumUp
Clover
Square
Vita Mojo
Shopify
Lightspeed L Series
Inventory
Cooking The Books
Apicbase
Comtrex
Centegra
Marketman
Social Media
Google Places
Yelp
Tripadvisor
Facebook