We all know that we have to cut down on our carbon emissions. In our personal lives that may include reducing our air travel or meat intake, but the reality is that to have the kind of impact needed, companies and corporations also need to be doing everything they can to reduce their emissions and the restaurant industry and food sector in general have a big role to play in that process. Becoming a carbon neutral restaurant seems almost impossible, but is it?
It's been revealed that 2020 was tied with 2016 as the hottest year on record. This is despite the Covid lockdowns that momentarily caused emissions to be reduced. According to Prof Dave Reay at the University of Edinburgh, 'the CO2 accumulating in the atmosphere is still going up fast. Unless the global economic recovery from the nightmares of 2020 is a green one, the future of many millions of people around the world looks black indeed.'


Climate scientists have calculated that we have until 2030 to make changes so that global warming does not exceed 1.5 degrees Celsius. To go higher would mean significant risks to a large portion of the world. The UN has therefore set a number of Sustainable Development Goals for the planet to reach by 2030. One of the most important for reducing our global emissions is Goal 12: Ensure sustainable consumption and production patterns. The current situation is that all the progress made since the industrial revolution has gone hand in hand with negative impacts on the environment. Goal 12 is 'about decoupling economic growth from environmental degradation, increasing resource efficiency and promoting sustainable lifestyles.'     


The science is clear, if there isn't a significant shift in our actions surrounding carbon reduction, the consequences to our planet will be dire. 
Where does the restaurant industry come into this?



According to the UN, the 'food sector accounts for around 30% of the world's total energy consumption and for around 22% of total Greenhouse Gas emissions.' While the food sector is of course much further reaching than the restaurant industry, the more restaurants focus on reducing their carbon footprint, the more impact can be made in reducing these numbers. 


The current restaurant model is far from being sustainable. Waste is a serious problem. In the UK alone, 1.1 million tonnes of food is wasted in the hospitality and food service sector each year, of which 75% is avoidable and could have been eaten. Food waste is an enormous contributor to carbon emissions (if it were a nation, it would be the third largest carbon emitter after the US and China), but that's not where the waste ends. 1.3 million tonnes of packaging and 0.66 million tonnes of other 'non-food' waste is thrown away by the UK industry every year. 


But waste is only one part of the wider problem. Emissions occur at every stage of the supply chain, all the way from harvest to the finished product. When it comes to sourcing ingredients, the products themselves have to be considered (are they grown or cultivated using sustainable methods?) as well as thinking about the energy consumed in getting them from their origin to your restaurant. Then you have to think about emissions coming from the restaurant itself thanks to your electricity and gas usage as well as all the single-use plastic we're so accustomed to seeing in the kitchen (cling film, styrofoam). And finally, how do you get your food to your customers? Is there delivery involved, what kind of packaging or even crockery do you use? 

It all adds up unfortunately and it can seem like an unsolvable problem, all these emissions must just be inherent to the industry. That may not be the case anymore. We're now seeing more and more restaurants moving toward becoming fully carbon neutral. 

The carbon neutral restaurant 



Carbon neutral restaurants and restaurant groups do indeed exist. Take the 13-strong London-based Mexican restaurant group Wahaca. In 2016 they became the UK's first carbon neutral restaurant group in compliance with The CarbonNeutral Protocol. To achieve this, they reduced their emissions, found ways to improve sustainability in unique ways like using the heat energy created by fridges to heat the restaurants' hot water, as well as carbon offsetting. 
The Sustainable Restaurant Group in the US is another example of a fully carbon neutral group. They purchase the most sustainable products they can and then calculate their exact carbon footprint in the acquisition, transportation and production of their dishes. They then also offset any unavoidable emissions. They are one of the most transparent companies when it comes to showing exactly where their emissions are coming from, with a fully interactive map available on their website, keeping them fully accountable to their customers. 

The problem is that carbon offsetting is expensive. If a restaurant needed to carbon offset their operations without making any significant changes to standard operating procedures, the cost would be prohibitive. So the first step to carbon neutrality is making changes inside the kitchen. 

1. Audit the kitchen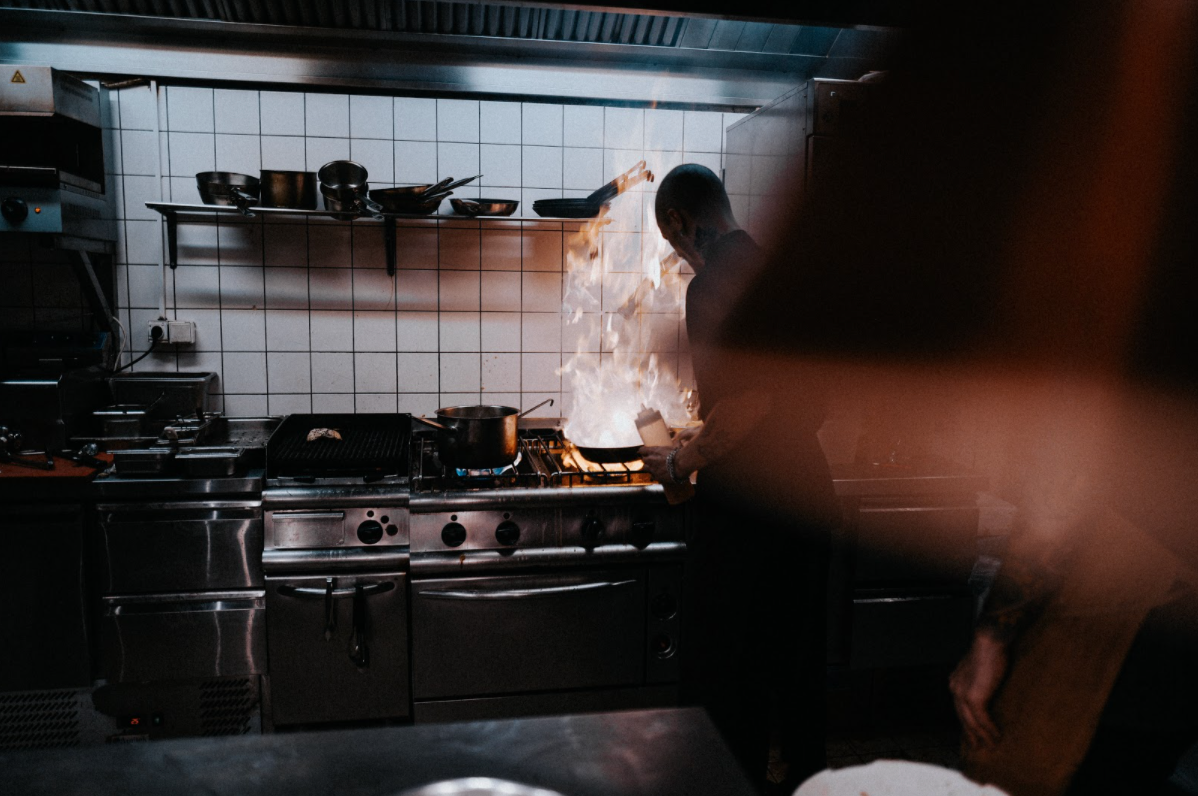 Photo by lasse bergqvist on Unsplash


The first thing to do is take a step back and observe where waste and inefficient energy use is occurring. Are you using an extreme amount of cling film, single-use containers, throwing away unused food because it's gone bad or leaving ranges on all day? This can all be adjusted to help lower your environmental impact. 

The first thing you can do is look at your electricity and gas provider and switch to fully renewable energy. We all know that renewable energy is the future, but with countries racing to reach deadlines set by the Paris Climate Agreement, burning fossil fuels is likely to become incredibly expensive with governments putting tariffs on non-renewable energy sources. It makes sense to make the switch now considering that renewable energy is no longer as prohibitively expensive as it once was. 


Once you've taken care of your energy, you can move on to other sources of waste. The fine dining restaurant Spring, based in London's Somerset House, has always been known for its seasonal menu making use of seasonally appropriate produce which reduced the need for exotic ingredients to be flown or sailed long distances. However, when it came to plastic use, they weren't being as environmentally conscious as possible. According to Skye Gyngell, chef at Spring, 'we worked out that we used over 3,600 kilometres of cling film a year. We just went cold turkey. We bought lids for everything, used beeswax and other compostable materials. We had ceramic ice cream cups made instead of using paper cups.'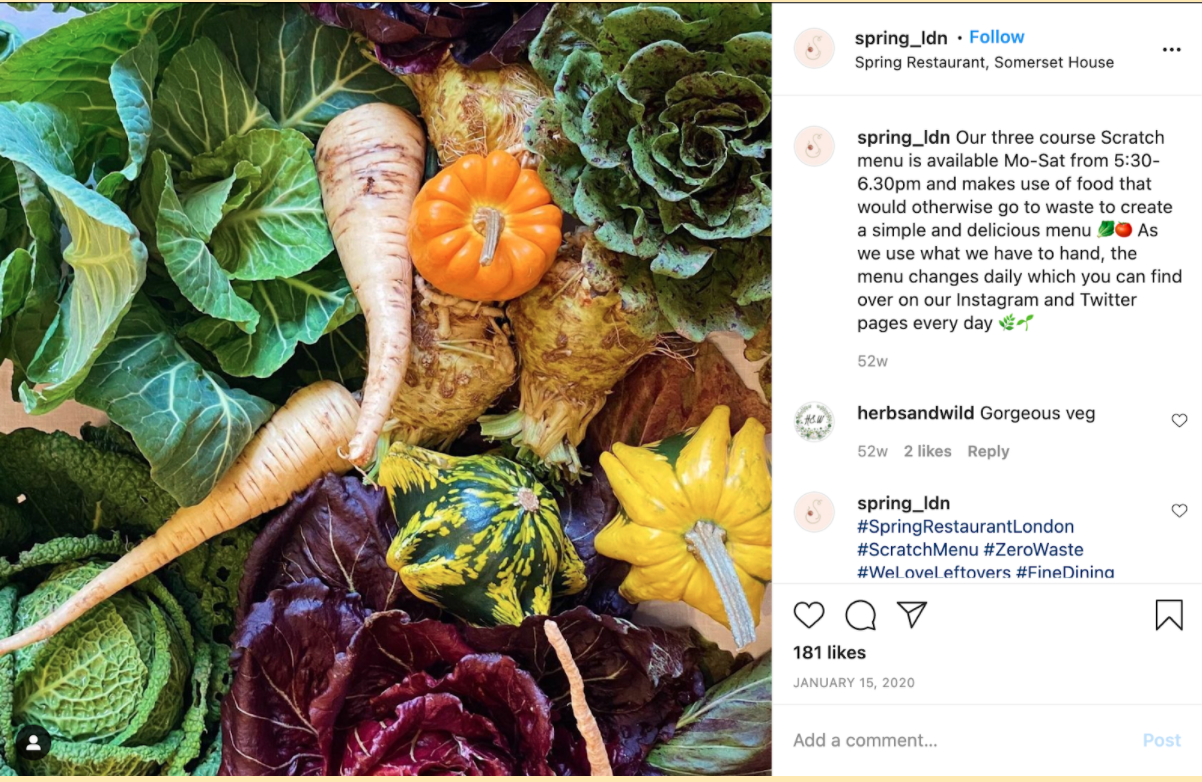 The restaurant also found a very creative way of reducing the amount of food wasted. They introduced a Scratch Menu, which is created solely with food that would otherwise go to waste. The chefs can only use ingredients from the 'scratch shelf' to create the dishes, forcing them to get creative and resulting in fun and new flavour combinations and meals for diners. This initiative reduced the amount of produce composted from 25% of their order to only 6%. 

2. Adapt your menu 
Your menu can have a huge impact on your carbon footprint. If your ingredients are all being imported from abroad in unsustainable ways, carbon emissions go way up regardless of what's happening in the actual restaurant. Sourcing ingredients locally and focusing on what's in season is the easiest way to cut down on all the carbon emissions involved in transportation. Many smaller independent restaurants are able to have close relationships with the farmers, butchers, fishermen, and any others who provide their ingredients and can therefore judge for themselves what's being cultivated sustainably and what's not. 

This isn't usually the case for large or global brands, as finding local suppliers can be difficult with hundreds of locations to procure food for. However, Nando's UK proves that it's not impossible.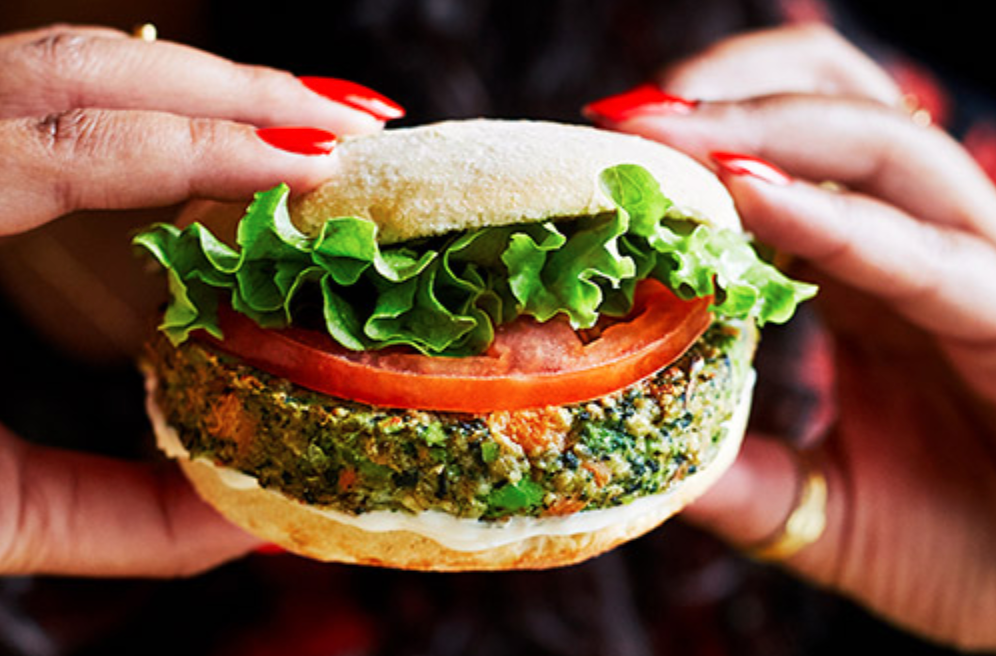 Photo by Nando's


Nando's has a great track record when it comes to operating in as sustainable a fashion as possible. Last summer, the group pledged to achieve zero direct emissions and reduce the carbon footprint of its meals by almost 50% by 2030. This comes after already having reduced the carbon footprint of its average meal by 40% since 2015. And crucially, they plan to do this without carbon offsetting, making changes to their operations so that they directly reduce the amount of carbon emitted. When it comes to sourcing their ingredients, the over 400-strong group is a true role model. 


They source all of their chicken from the UK, as well as all of their eggs, milk and potatoes. They also get all their corn from the UK when it is in season. Plus all their chicken is Red Tractor assured which champions environmental protection as well as animal welfare and food safety. 

But sourcing locally isn't the only way to change your menu for the better. It's becoming ever more apparent that plant-based foods are no longer a trend but a necessity. At current rates, the global population will reach 9.6 billion by 2050 and will require almost three planets to provide the natural resources to sustain current lifestyles. Livestock and the production of its feed currently takes up 80% of total agricultural land and produces 14.5% of CO2 emissions. Therefore, as the population increases and the desire for animal products remains the same, we will simply run out of land and continue to pump greenhouse gases into the atmosphere. 


3. Collaborate with experts 
Going completely carbon neutral without some external help is next to impossible. Once you've done all you can yourself it's time to call in the experts. There are some specific organisations and movements that can help you in your journey to carbon neutrality. 


In the UK, WRAP have created the Guardians of Grub campaign to empower restaurant workers to take control of their food waste. They provide resources including tracking sheets and calculators to deliver awareness of the amount of food being wasted. WRAP itself is committed to UN Sustainable Development Goal 12.3 to halve global food waste thanks to their Food Waste Reduction Roadmap which allows businesses to measure and report their waste, take targeted action to reduce food waste and help the UK deliver against environmental targets. 
Also dedicated to the UN Sustainable Development Goals (SDGs), Chef's Manifesto is a community of over 700 chefs all over the world, 'equipped with a simple set of actions to drive progress against the food issues that matter most to them.' The manifesto outlines how chefs can contribute to the SDGs in simple ways. It covers 8 areas that chefs are most passionate about working on, including environmental policies. 


Beyond fostering communities, one nonprofit organisation doing as much as they can to reduce the impact of restaurants on the environment is Zero Foodprint (ZFP). They work with restaurants to calculate their 'foodprints'; their term for the amount of CO2 emissions produced by a restaurant including all associated greenhouse gas emissions from ingredients, energy use, transportation and waste. They then offer solutions to reduce or totally offset those emissions. 

In their research, ZFP found that on average 8kg of CO2 is emitted for every meal prepared in restaurants, with 70% of that being produced in the production of ingredients. So they came up with a solution – they would help farmers switch to renewable farming practices that actually reduce the amount of carbon in the atmosphere while still rearing animals like cows for food turning a traditionally inhumane and environmentally detrimental industry into a more humane and sustainable one. 


Technology is also your friend when it comes to cutting down on emissions. There are several platforms that allow you to cut back on waste, in particular. Winnow, for example, uses AI-operated bins to figure out what you are throwing away and how often to give you insights in how to reduce the amount of food binned. And, of course, Tenzo can significantly improve your sales predictions and forecast the ingredients you will need more or less of depending on external factors like the weather and holidays. In fact, we've just embarked on a project that is set to reduce the amount of carbon emissions in restaurants by 4.5 million tonnes. 


4. Shout it from the rooftops
Conclusions
The Covid-19 pandemic has also increased diners' concern about the environment. 65% of consumers claim to be concerned about the environment as opposed to 47% pre-lockdown, as reported by the Sustainable Restaurant Association. A further three-quarters of those surveyed would be willing to opt for a sustainable dish on the menu. Considering these dishes make use of food that would usually otherwise go to waste or are made from low cost ingredients like vegetables, it's a win-win for the restaurant. 


The reality is that there are plenty of ways to reduce carbon emissions in restaurants and beyond them just being good for the environment, they can also lead to increased revenue. According to the National Restaurant Association, 'about half of consumers report that a restaurant's efforts to reduce food waste, recycle or donate food can be factors in choosing where to dine.' Consumers, especially millennials and gen Z, are actively considering their impact on the environment and are more likely to choose to patron businesses that align with their beliefs. 


Becoming fully carbon neutral may seem like herculean task for restaurateurs but the reality is that it soon may no longer be a choice. If the planet is going to hit the goals laid out by the Paris climate agreement and the UN, every industry will have to pull their weight including hospitality. 

However, the hospitality space has already proven that restaurants of all sizes from the one location independent mom and pop shops to the large chains like Nando's can make changes to their operations that allow them to reduce their emissions in large proportions. Additionally, consumer demand for sustainability-focused products in all areas of their lives is growing and making increased sustainable practices possible from an economic perspective. 

Carbon neutrality is no longer something totally out of reach for restaurants. The tools needed now exist, they simply remain to be capitalised on.

 
What are you doing to reduce emissions in your restaurant? Let us know using the hashtag #tenzocarbonchallenge.


Tenzo is currently working on a project set to reduce carbon emissions by 4.5 million tonnes. In order to do this to the best of our ability we need your help! We're putting together a panel of restaurateurs to help us understand how our forecasting tool can reduce as much waste as possible. If you'd like to take part please email [email protected].


---