If you've spoken to anyone on the Tenzo team recently, you've probably heard us bandy around the term 'write integrations'.


No, we're not speaking in code, we're just referring to our latest foray into giving restaurateurs the tools they need to make their operations run as smoothly as possible.


However, we're not always the best at stopping to explain what we are actually talking about. So, I'm here to break down what these 'write integrations' actually are and why we think they're so important in the evolving restaurant tech stack.

First thing's first, what does a 'write integration' even mean?
As you may know, Tenzo integrates with your POS, labour scheduler and inventory management system to bring all your data into one easy to use platform.


When you see your sales numbers in Tenzo, for example, this is the result of a 'read integration' because we are 'reading' the information provided to us by an API. That's to say we take the data they provide and transform it into the information available in Tenzo (this is very complicated in and of itself, give our Airflow blog a read if you would like to find out more about our ETL process).


Now we've expanded to 'write integrations' which means that we provide the data and information in our own API that other businesses can 'read', or we write our forecasts to our partner's API. For the most part, the information that we're providing is our AI forecasts, but we also provide actual sales numbers.

Why did we decide to build these write integrations?
Issue 1: Forecasting
We knew that there was a disconnect in the way General Managers were receiving forecasts and how they were being enacted.

In the old way of doing things, GMs may have received up to 3 separate forecasts:

The finance team in Head Office comes up with a forecast to give some guidance when it comes to staffing and ordering stock. This can be as basic as a 4-week average or it can be something more complex taking into account differing factors.
A forecast is generated by their labour scheduler to help with their rotas. The problem is these platforms are usually only able to give a daily forecast, not an hourly one. This forecast will be created using another method so will be different from the first forecast.
Inventory tools also show forecasts to help with ordering. As above, it's usually only on a daily level and will also give another totally different forecast.

So what happens then? According to Christian Mouysset, Tenzo CEO, 'the GMs don't trust any of these because firstly, they're all giving different numbers, and secondly, there's no context around the numbers.'  


Quite understandably, this often leads to GMs ignoring all of the forecasts and going off of gut instinct or simply using the same schedule or inventory order as they did the previous week. The problem with this method is that if that week is half-term or if there's an event going on, the schedule and order will be completely off.
How are Tenzo's forecasts different?



Our forecasting methods go above and beyond what restaurants usually have access to. We not only take into account historical sales but seasonality, events, weather and more. Our algorithms are also trained on hundreds of different restaurants so benefit from the collective knowledge of all those businesses.

Not only do we provide daily forecasts, but we can give you an accurate forecast for every hour of the day, as well as at an item level. Plus, we give context as to how we got to that number so the GMs can see that we didn't just pluck a number out of thin air.

Finally, we are fully aware that we can't know everything. For example, if there are roadworks outside the restaurant and footfall is going to suffer because of them, Tenzo can't possibly know that. That's why we encourage the GM to change the forecast if need be. In fact, we've shown that Tenzo on its own improves a business's forecast by 25%, but when the GM engages with it, that number goes up to 30%!
Tenzo's forecasting module

Issue 2: Engagement



That all sounds great, but with these forecasts living within the Tenzo platform, everything becomes a bit clunky. You need to have the Tenzo app open, then in another tab have your labour scheduler open and so on and so forth. Then you need to keep switching back and forth between these platforms to make sure you're scheduling or ordering correctly. It's a bit too much friction, as we say in tech, for the process to feel simple and seamless.

That's where the write integrations come in.

Now, a customer can access their Tenzo forecasts in their rota tools while they're creating their schedule. No more switching back and forth, it's all right there. You can actually see what your planned cost of labour will be as a percentage of your sales forecast per hour.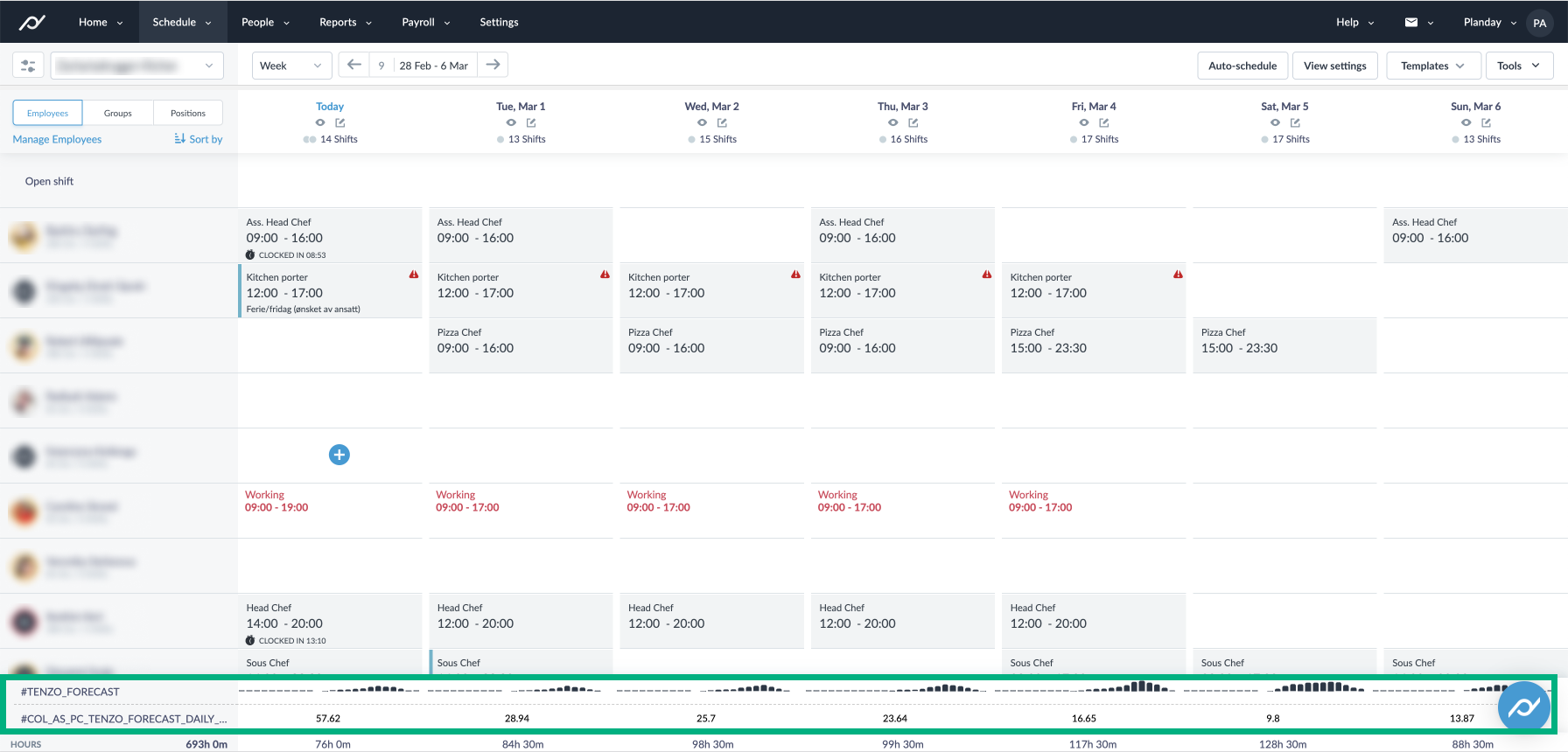 Planned cost of labour as a percentage of future sales as shown in Planday's platform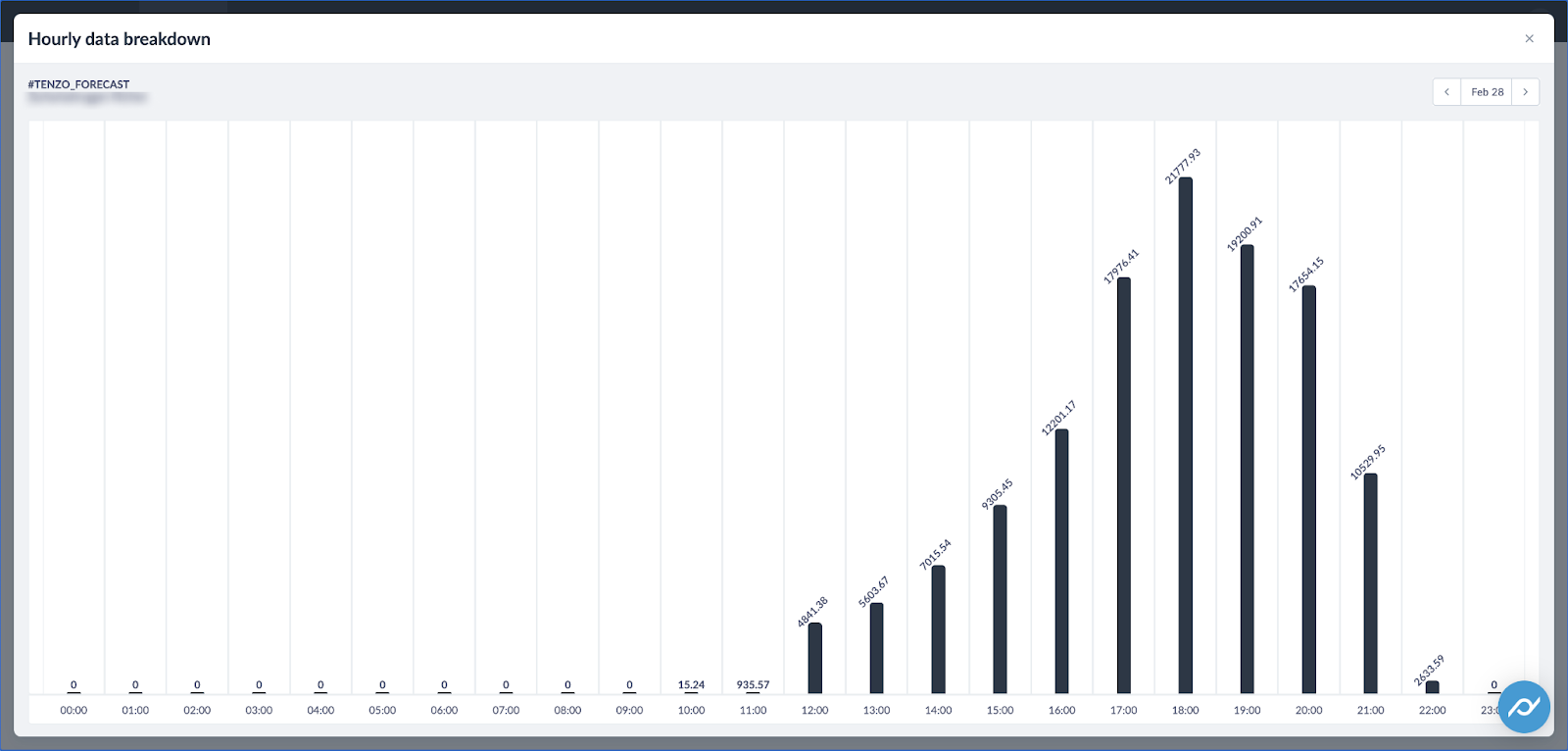 Tenzo's hourly forecast as shown in Planday's platform
When we tested out this way of scheduling, we found that it increased labour productivity (that's sales per labour hour spent) by 15%. Not too shabby.

Why would partners want to include our forecasts in their tooling?


As we've covered, generating these forecasts is no easy feat. For the partner to get to the same level of detail as Tenzo does, they would need to pull in sales at an hourly level (something that we've shown to be *very* difficult), they would need to invest in their forecasting algorithm which takes AI expertise, and then they would need to build out the infrastructure to get GM engagement.


That's a lot of work on something that's not your core offering, because labour tools, for example, don't just need to provide scheduling software, they also need to integrate with your accounting software to deal with payroll, with your clock-in/clock-out system, with your training software and much more that we at Tenzo don't need to focus on.


Using Tenzo's forecasts allows them to focus on the things that make them amazing platforms to work with without having to spare the resources to create these very complicated forecast delivery systems. This is what we call 'best-in-breed' – when everyone can focus on the things they do best.  


But don't just trust our word – our write integrations are currently supported by Planday, Rotaready, and Deputy for forecast sales, while Worforce.com and Tanda pull actual sales from Tenzo with Bizimply and Harri both building out this feature at the moment.


This is just the beginning…


We've started building these write integrations for labour schedulers, but that's just the first step. We will soon be seeing Tenzo forecasts in inventory management platforms with item-level forecasts being used to order in the right quantities and cut back on food waste.


If you'd like to see Tenzo forecasts in your tooling, get in touch! We'd love to hear from you.