Two weeks ago, we had the pleasure of attending Restaurant and Bar Tech Live. The two days were a blur of demoing, meeting with partners and scrambling from talk to talk. It was hectic, busy, and everything we could have hoped for from the biggest event for restaurant tech of the year. Plus, with so many industry big-wigs and influencers in attendance, we had an opportunity to learn all about the upcoming trends in the industry.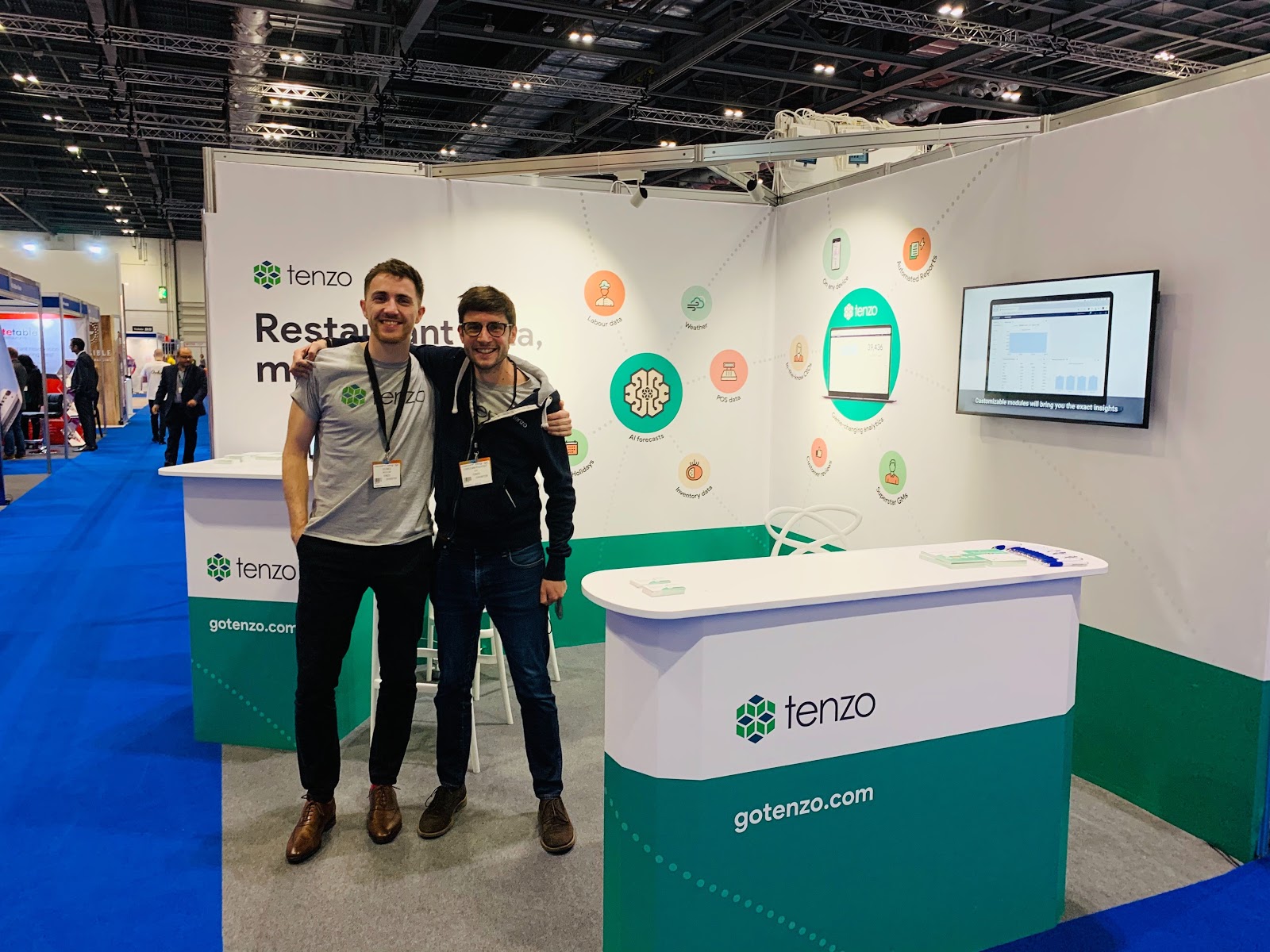 Here's our breakdown of everything we learnt over the two days about the direction tech is heading in the industry.
People over tech
Ironically, the first talk that we went to – a keynote by Cain Savazzi, Operations Director at TGI Fridays – promoted the idea that tech should come in second-place in your business. What should come first, you ask? According to Cain, it's your people – TGI Fridays has a people-led strategy, with tech being an enhancement, not a replacement, for those people.
According to Daniel Davis of Honest Burgers, this is the worst labour market since World War 2. Retaining staff by investing in them and making them feel appreciated may be the answer to this problem. Tech solutions built with staff-empowerment in mind – dedicated training apps ,for example – are a way to integrate the efficiency of technology, while still putting your people first.
Tenzo is an example of staff-empowerment tech. A few examples: our real-time analytics allow GMs to be better decision-makers, and our forecasting can make shift schedules more reliable – a big factor in retaining staff.
Alternatively, training apps that incorporate gaming like those created by Attensi encourage employees to engage with both the company and each other. We've seen successful case studies of this from both Itsu and Starbucks. In fact, Itsu found that their onboarding time was halved thanks to the new gaming concept. Gamifying training encourages people to keep using the app to get higher scores while simultaneously repeating simulations that will make them more confident and effective workers.
Robots
It's happened: the robots are here. Marius Robles, co-founder of Food by Robots, showed us how far robotics has come along in the food industry over the last few years. Now, robots can not only be programmed to perform one task but can easily be reprogrammed for the next one. This allows the same robotic device to be used for several different tasks, revolutionary when you think of all the tasks required in a kitchen! The takeaway here is that we have got to the point where a robotic arm is actually a sensible investment for many commercial Kitchens and not just a novelty.
We've already seen their implementation in new concepts such as Spyce in Boston, a fully automated quick-service restaurant. Robots run the show there, from taking orders, preparing the food, and delivering it to the consumer.


In Asia, they're way ahead of the curve. Alibaba has rolled out Robots.He in their Hema supermarkets in China, a robot-powered eatery that allows you to select items from the supermarket to be prepared for you. Their competitor, JD.com, has also embraced robotics in the food industry and plans to have 1,000 robotic restaurants in China by 2020. These restaurants are fully automated, from food preparation to service. They incorporate AI and self-driving technology to safely manoeuvre within the space. The restaurant has a VR immersive eating area to provide diners with an even more futuristic experience.
Gen Z and digital engagement
We now live in the kind of hyper-connected world that means that the average twenty-year-old gets distracted every twenty-eight seconds by a new notification, according to Paul Wickers, founder and CEO, at Huggg. This means that to stand out from the crowd, any kind of advertisement must compel the consumer to convert as quickly as possible.
Olive Garden is one restaurant chain who have managed to do just this. They send their most engaged customers text messages, sometimes up to three times a week! They only contact customers who have signed up to receive text messages from the brand, meaning that they are already fans of Olive Garden. By capturing this audience, and sending out news or offers in this medium, they are able to incite repeat visits from loyal customers and reward them.
With a whole new generation of consumers coming of age, it's important to know what makes them different from their predecessors. Gen Z, according to several industry insiders, will be far less loyal to one restaurant than the millennials that came before them. They are much more open and prefer to try new things each time they go out. Finding a way to keep them loyal is therefore imperative.
Harnessing the power of search
In 2019, whenever we want the answer to pretty much any question, Google is our first port-of-call. Same thing goes for restaurant recommendations. If we're in the mood for something to eat, we don't search for branded terms like 'Five Guys' but instead for unbranded terms like, 'good burgers near me'. One key to increasing footfall is to be the first result for that unbranded search term.
Lee Zucker, from Yext, showed us how Five Guys did just that. And it was no simple task. We don't realise how many separate terms need to be analysed to give us the answer we want on Google. Searching 'good burger place near me with free wifi' may seem pretty straightforward, but it actually requires Google to trawl through millions of data points, from menu information, reviews, and location information, to information on specific restaurants, and bring it all together for the customer.
For restaurants to achieve that elusive top search result, all of their information needs to be within easy reach for Google. According to Lee, it is seemingly important to lay bare all of the things that you offer. (The official name for this is a knowledge graph). Say you have activities for kids and great children's menu, shout it loud and clear on the web. So next time someone searches for 'best kid-friendly restaurant', you'll be on the radar.
Sustainability
Last, but absolutely by no means least, we saw a serious upsurge in interest in sustainability. Just walking around the stands at all the expos involved in the wider Food Entrepreneur Show, anyone could see that sustainability was at the forefront of everyone's minds, whether it was eco-takeaway boxes, straws made of actual straw, more eco-friendly waste disposal, or brands targeting food waste such as Too Good To Go.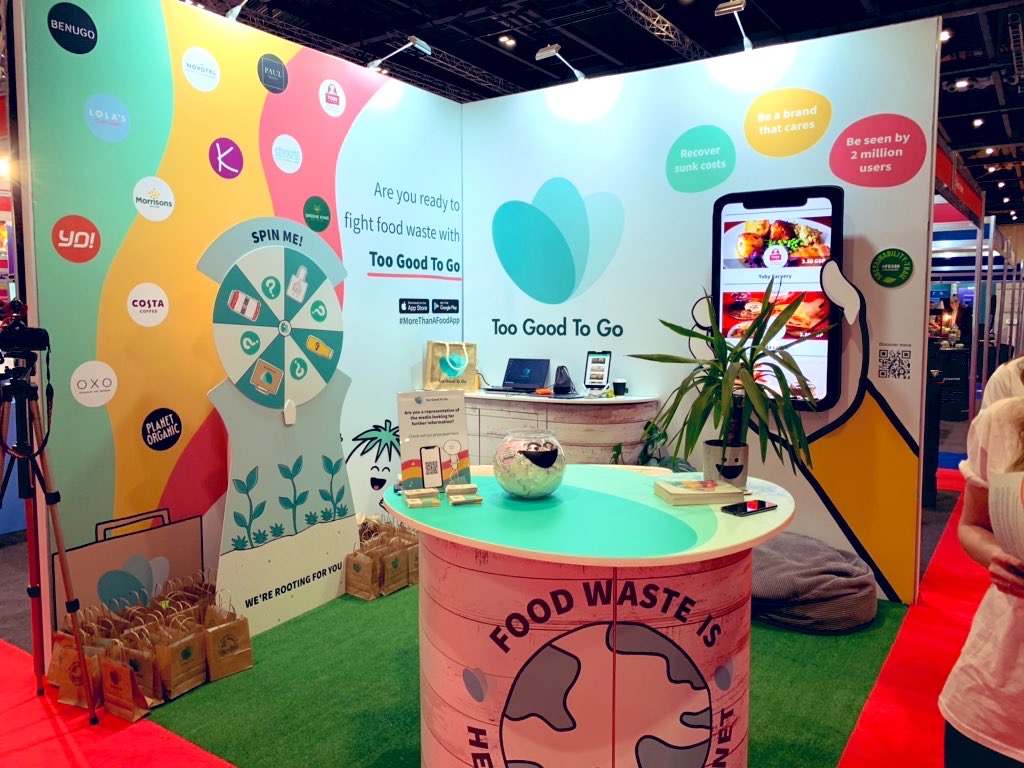 From a technology perspective, our own CEO and co-founder, Christian Mouysset, pointed out the huge issue of food waste in the restaurant industry during a panel discussion about "leveraging technology to streamline operations". Using Tenzo's AI forecasting allows restaurateurs to know, with much greater accuracy, how much food will be needed in order to reduce over-ordering and more waste.
Conclusion
Trends like these prove that the next era of hospitality has begun – the technological revolution. Things that might have seemed like science-fiction just five years ago, are now becoming reality.


Furthermore, in this internet-age, the reach that restaurant brands can now have is unprecedented. Using these next-generation tools to appeal to as many people as possible has become crucial.


These trends are here to stay and are bound to take the whole industry by storm.


We had such a great time at Restaurant & Bar Tech Live and we definitely learnt a ton. We can't wait to be back next year!