As a new way to live out one of values – customer obsessed – we've decided to launch a quarterly Customer Spotlight. Our customers all have unique stories to tell as to how they got into the hospitality industry, how they run their business, as well as how the last year has affected them and we want to hear all about it. For our inaugural spotlight, Joshua Owens-Baigler, co-founder of Angelina in Dalston and the newly-opened Golden Gai in Soho, joined Tenzo's All Hands meeting so the entire team could hear about his amazing journey.

Thanks Josh for agreeing to be our first customer in the spotlight and for sharing your experience with the Tenzo team!

Penny Roberts (Customer Success Director at Tenzo): Hi Josh, thanks for taking the time to speak to us! Did you maybe want to start with a short background as to how you got started in the F&B industry and how Angelina came into being?


Josh: Of course! Like a lot of people in hospitality, I fell into it a bit by accident. My first love was football: I was a footballer, but when I realised that I was going to have a very modest profession through my 20s and then have to be a coach in my 30s, I thought I'd better go back to university and change my path a little.


Josh at work. Source: angelina.dalston


Going back as a mature student, I didn't really want to go into debt and so I was really lucky to get a position polishing glasses at the River Cafe – I played football in Italy so there was quite a lot of synergy there – and I fell in love. I've been trying to escape ever since! I did graduate and I did threaten to go into another industry, to get a "proper job", but then I decided to follow my passion in this direction.

Mostly I've spent time in fine dining and casual fine dining. I set up Angelina in 2019 with my mum, and my best friend. So I'm fortunate to go to work every day and do what I love and do it with the people that I love. Most of the time we are one big happy family – 'most' probably being the key word *laughs*.


"I'm fortunate to go to work every day and do what I love and do it with the people that I love."




Penny: Angelina is quite a unique restaurant, can you describe a bit of what's different about it?


Josh: Sure, so I guess we're quite unique in a few ways.


Firstly, we don't sell food in situ – rather we sell tickets, so we operate a little bit like a theatre. Further than that, we don't have an a la carte menu so you get what you're given.


And finally, our Italian food is inspired by Japan.


If you've spent time eating Italian food, you'll know that it's very regional and we wanted to do that justice. The only problem was that we couldn't pick a region, so we realised that we needed another way to constrain our creativity – we didn't want to be the guys who were serving lasagne and pizza on the same menu.


On our travels and/or research adventures, we had a meal in Verona where two Japanese chefs were spending some time in a traditional Italian trattoria and had inspired the owner to start using foreign (to him) ingredients. And though the meal wasn't that inspiring, the idea was.


Two years later, we found our own way to interpret what many people think is a strange combination but, in practice, both cuisines share a lot of emphasis on raw ingredients, craftsmanship and important, deep culinary traditions that maybe aren't present in every nation. It's not too difficult to come up with recipes and ideas, and thankfully it seems like people like it, so maybe it isn't that crazy.


Penny: One of things you mentioned to me recently, was that you've been really focusing on your supply chain and sourcing locally.


Josh: The first lockdown really connected us with our community; we've always worked with farmers, we've always worked with local producers and we've always done as much as we thought we could to reduce our carbon footprint. But, in the first lockdown, we worked with a vegan charity and provided community meals, and had a lot of food donated from urban farms that were a stone's throw from us and that we didn't even know existed.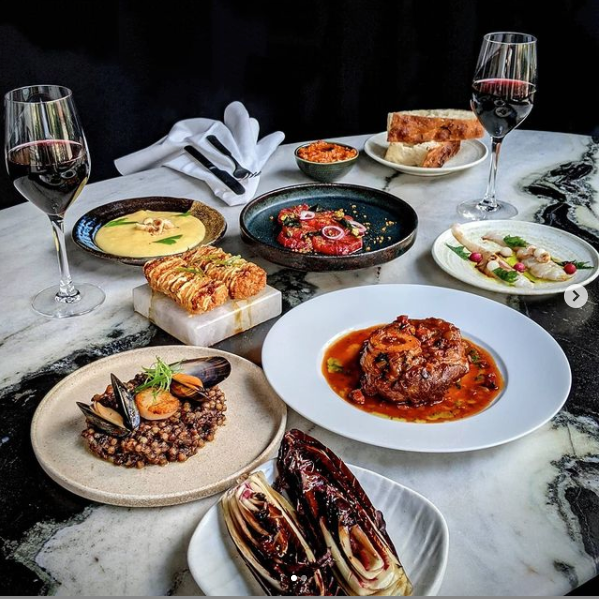 Source: angelina.dalston
I think that really motivated us to go a little bit further in our research. One of the things that we've been looking at recently, for example, is the fact that while a lot of the artisanal soy sauces that we use are fantastic products, they are coming a long way to get to us. Instead, we've currently got an alchemist in Brentford using English marrowfat peas to make amino substrates which taste like soy.


"We've currently got an alchemist in Brentford using English marrowfat peas to make amino substrates which taste like soy."




Things like that are what get us excited. So this newfound – or rather newly-rediscovered – desire to be as super local as we can be has kind of added a new string to the Italian-Japanese bow.


Penny: So you mentioned Covid there, and the challenges of the pandemic being the drivers for some of that change, what else did you do as a business during the lockdowns?

Josh: It's quite a long list: I think the primary thing which kept us together and kept us going is that we knew we didn't want to stop. Sitting together on the 20th of March last year, we realised that the vast majority of our workforce were single, were away from home, and didn't have a support network – so just having somewhere for them to go every day was something that they treasured and it kept us motivated to find new ways of operating.


To quickly list off a few of things we did:
In the first lockdown we provided an emergency hot meals service with a local charity and with the local council. We did about 42,500 meals between March and June.





We then had a period in between lockdowns where we were a soup kitchen on a Monday and a Tuesday and a fine dining restaurant from Wednesday to Saturday, which was an interesting challenge with overnight cleaners and all of the logistics.





We did some fine dining takeaway, which I was definitely skeptical about in the beginning, but when you're deprived of 'experienced eating' for quite a while, you start to crave the things that you don't necessarily want to cook at home. So, although it was quite heartbreaking at points, we kind of transferred our model to boxes and packaging.





And then we had a bit of a failed attempt of doing an online deli box – I just couldn't believe how much work packing was. After three nights without sleep we gave that up pretty quickly.




We didn't do stay-at-home kits – rather we did a finished meal and took inspiration from cosmetics and fashion to try to package it as nicely as we could. Our waiters would then act as a courier service and would deliver it passionately and describe what was in the containers – so that was quite fun.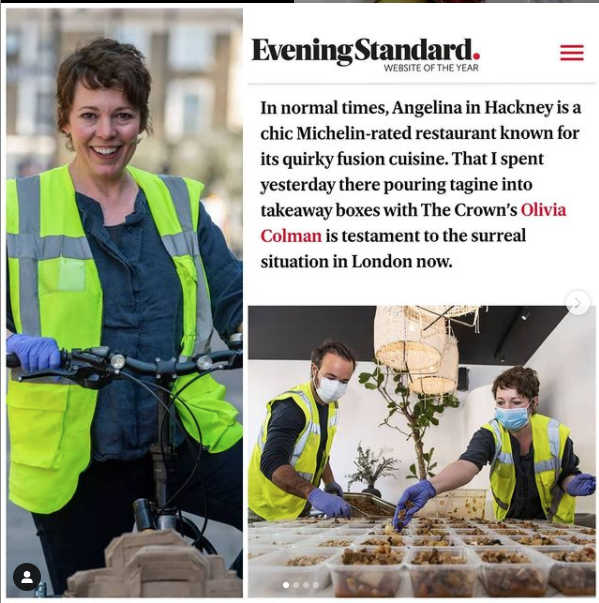 Source: angelina.dalston

I think the thing that's also worth mentioning is the transfer to a ticketed model. It was quite a bold step for us and we were afraid of the custom we might lose, but it's been something that we're super happy about and we now champion in our wider circles to try to give other small independent restaurants the confidence to charge upfront.


"We now champion [our ticketed model] in our wider circles to try to give other small independent restaurants the confidence to charge upfront."
Beyond the precarious position of the industry and the unfortunate tendency of customers booking multiple restaurants and not necessarily showing up to a booking, (that's not expected in other industries – you don't book a flight, then not show up for it and get your money back) – the ticketed model has enabled us to work with local suppliers and improve our supply chain because we know that whatever we commit to buy, people have committed to buy from us. It completes the cycle with a lot more certainty which means we can be a lot stricter on our margins.


Penny: That sounds amazing. So if we bring it on to Tenzo and your aims with us, what made you want to implement a reporting and analytics system.


Josh: I think that it kind of builds on that topic of predictability – when we sell a ticket, we know exactly how much our customers have committed to spend, and that kind of enables us to complete the circuit and purchase ingredients in a sensible way.


Fundamentally, our model has always been about providing a special experience and making people feel special at a reasonable price point. And in a London context, that's not easy. So, where we've always tried to streamline as much as possible is with data and with reducing the amount of time between decision-making, action and reporting. Often – like lots of independent businesses – we don't get any snapshots; so we operate for a month, and then we have a two week lapse and then we get some data that we work with, and then we make some decisions, which will then come into play in another month.


So everything that you do is kind of eight weeks behind. I came across Tenzo and we were super excited to nail into the detail even further. We can now provide amazing tools for our staff: scheduling is automated now to a certain extent because Planday syncs with Tenzo which syncs with Lightspeed so it's a huge asset for us to be able to get important reporting data quickly and not have to wait eight weeks to make a new decision. We want to know as soon as possible what we've done wrong and how we can rectify it.


Penny: And I hear there's some exciting news for growth in the business as well?

Josh: Yeah, we opened a bar at the best possible time in early December – so we spent about 9 days open and then we closed again for 6 months – but we've reopened and things are looking exciting and people are, despite it being polar at the moment, excited to put their coats on and get out it seems. We're hoping to use Tenzo to tie our numbers together across the two sites to enable us to focus on creativity and not on whether the decision we made eight weeks ago was the right one.


Thanks so much to Josh for chatting with us! If you'd like to find out more about Tenzo, feel free to request a demo.