Holiday lights are up, ugly reindeer jumpers are out, and you can't cross the road without seeing someone hawking mince pies. Yes, Christmas is upon us! We look at how restaurants and Christmas can help make Christmas jolly again.
While Christmas is largely seen as a holiday for eating at home, from 2014-2018, restaurants saw a rise in the number of customer reservations for eating out on the 25th of December. 10% of people in one survey expressed the desire to eat out on Christmas day.
Below are some ways in which food and beverage businesses can boost their visibility throughout the month of December.
We'll be Open for Christmas
The first piece of advice would be to actually be open over Christmas. According to Yelp, of the 30,000+ restaurants in London, only 713 are said to be open. With the growing interest in eating out over the festive period, this means there is a lot of room for restaurants looking to corner the market.
Festive Menus


When people think of Christmas, they think of things like turkey, cranberry sauce, mulled wine, pigs-in-blankets, and Christmas pudding. This doesn't necessarily mean offering these items in the traditional sense – don't think turkey on a plate beside roast potatoes and brussels sprouts – but rather incorporating these flavours and foods in your menu during yuletide. For example, Moro, a Spanish restaurant in London, serves a chorizo and chestnut soup as part of their Christmas set menu. Or, perhaps, for another subtle touch, consider using cranberry vodka in a cocktail to nudge customers into the Christmas mood.


You can also make subtle Christmas tweaks to your core menu items; Nando's recently created the Mzansi (Xhosa word meaning South Africa) burger, which takes its famous PERi-PERi chicken breast, as well as chicken thighs, and Christmas-ifies it with a chestnut pâté and "festive" slaw. Gridiron in London (Mayfair) does an ash-burnt leek with winter truffle and walnuts, a tasteful way to feature winter flavours.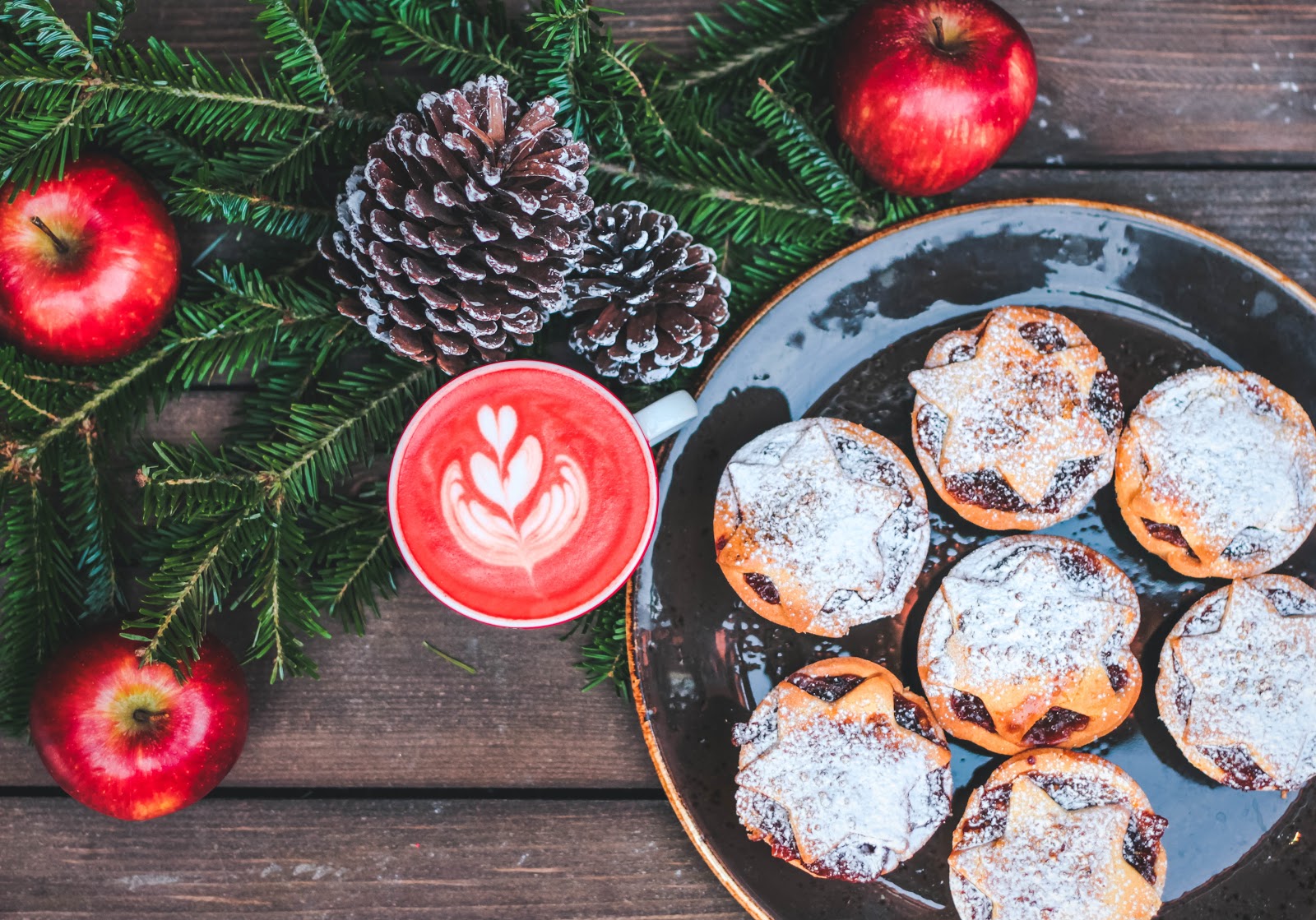 Offer a Christmas Day meal
While many consider Christmas to be all about the home-cooked meals, others can't be bothered with the faff.


Take a cue from Norma on in Fitzrovia, London, who offer not one, not two, but three different Christmas menus. The first features a classic three-course meal while the other two are differently priced "feasting menus," which include dishes meant to be shared family-style. By having various options, Norma is catering for a wider variety of Christmas dinner needs: Dinner for two? Done. Ten relatives who want to emulate a more home-cooked meal? Done. Davy's in London also takes this approach by offering Christmas Breakfast, party bites, and dinner!
Offer take-and-bake Christmas dinners
For those who are not keen on the idea of cooking an entire holiday feast but want to eat in the comfort of their own homes, consider offering pre-made take-and-bake meals to be picked up a day or two early. That way, those who would rather avoid the stress that comes with making a feast can instead have a relaxing afternoon with friends and family. One example of a grocery store doing this is Whole Foods, who provide entire Christmas feasts as an option. For the eco-conscious, Cook even provides a Christmas lunch (for 2, 8, or 12) that is carbon neutral "from field to fork!"


And for restaurants this does not necessarily mean providing everything, from pigs-in-blankets to turkey and gravy. Consider just offering pre-made versions of some of your most popular appetizers or side dishes, so the turkey is all that's left to prepare!
It's Beginning to Look a Lot Like Christmas: Decor
You know the drill – It's Christmas, the lights come out, the wreaths find their way onto doors, the scent of pine and cinnamon wafts over. When thinking about decor for wintertime, it is important to keep in mind what works best for your restaurant.


Dalloway Terrace in Bloomsbury, London changes their decor to mimic the seasons, or what we wish the seasons were – think a tropical setting for spring, fresh florals for summer, autumnal colour shifts of leaves for autumn. And for winter? Recreating a winter wonderland indoors so that customers may dine bathed in holiday spirit. Dalloway Terrace changes the designs every year to spice things up. Take a look at two examples from winter at the restaurant for the past two years: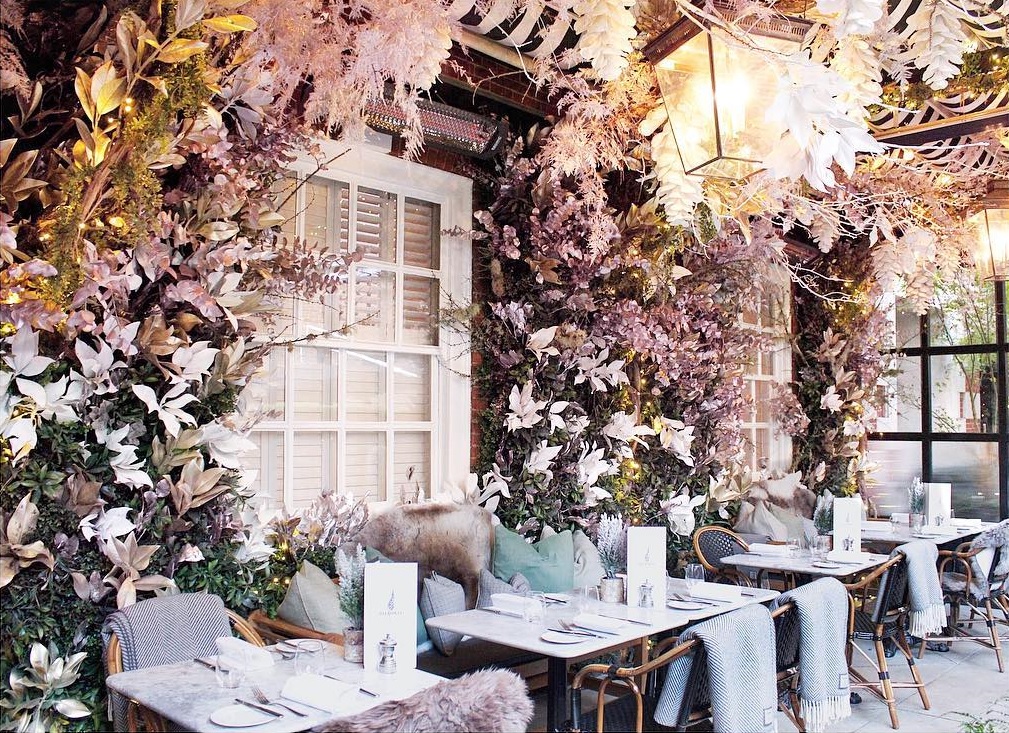 Falling on the more extravagant end of the scale, a dining experience at Rolf's German Restaurant in New York falls comes complete with an entire ceiling of baubles and lights for a VERY merry environment.


And remember, if all else fails, twinkly lights. You love them, we love them, everyone loves them.
Host an Event
Charity events
People tend to be more charitable around Christmas. And, contrary to what some might believe, Millennials appear to be the demographic which tends to donate the most to charity. According to the UK Charity Commission, this added up to an average of £31.29 per person aged 18-24 during the 2017 Christmas season.


Combine this with the knowledge that members of Gen Z tend to prefer experience-based dining, you may also benefit by drawing younger traffic to your event and restaurant.
Office Christmas parties
In 2017, UK employers spent a mind-boggling £4 billion on Christmas parties, according to a survey by Travelodge. Take a note from Rosa's Thai Cafe and create a special menu for this as well. As people start having parties from the end of November onwards, you could have your private rooms booked for weeks in a row and set in the books way ahead of time. And of course, what better way to appeal to companies shopping for Christmas parties than to have a lively decorated restaurant interior and menu items guaranteed to get people in the Christmas spirit?
Promotions
Deals for large parties
If you want to highlight that your restaurant is changing things up for the yuletide season, think about adding special promotions and deals only available within a certain window of time, like December 20th to December 30th! To encourage families and large parties to eat out, think about deals targeted towards large groups.
Drinks deals
Once again, drinks deals never fail to sell, especially given that in colder weather where temperature and hours of sunlight are down, people tend to drink more than when in warmer climates.


Scientists at Hepatology found that in regards to temperature and drinking, there is a negative correlation. Hence, people DO, in fact, drink more alcohol in winter, and it benefits restaurants to be prepared for this influx! For Christmas time, think mulled wines, ciders, Irish Cream, and eggnog.
The Gift (Card) That Keeps on Giving
Gift cards to restaurants can be a great way for friends and relatives to ensure that they are giving out a useful and much appreciated present. By having these available and advertised for the occasion, restaurants can also increase revenue. Also, it doesn't hurt that many times, they actually end up spending more than the gift card value. Either way, restaurants can see profits from offering gift cards.
Media
Online branding for the holiday season
As 86% of diners now look at the menu online before committing to a restaurant, it is important to make sure that your website, where you display your menu, is up to par.


Spicing up your website to advertise specific Christmas-themed features at your restaurant will persuade potential customers to stop by and try out any updates to the menu or decor. This might include going all out like Gordon by advertising "A Very Ramsay Christmas" at his hotel and restaurant York and Albany.


Alternatively, look to 12:51's minimalistic website holiday design advertising for cute and understated graphics of baubles.
Social media, social media, social media
And, make sure not to forget about employing social media! Consider creating a winter or Christmas-themed Snapchat filter and/or promoting any Christmas menus, events, or deals on platforms like Instagram, Facebook, and Twitter to ensure you are reaching the widest audience you can and maximize sales!


Lastly, sending out a Christmas email campaign can also help spread the word that you are making changes especially for yuletide celebrations.


Look forward to future blog posts solely dedicated to social media and how it can be used in restaurant marketing to improve this aspect of your restaurant even more!
Conclusion
Above are but a few of the many creative ways in which restaurants, bars, cafes, and other hospitality businesses can profit from Christmas celebrations. Through some of these tips and methods, you can lift the spirits of your customers while also seeing an improvement in revenue for your restaurant. Of course you could make like Scrooge and avoid the holidays all-together, but what would be the fun in that?


If you want to find out how the Christmas season affects your sales, Tenzo is the tool for you. By aggregating historical data from past seasons, Tenzo's AI forecasting can make accurate predictions about this year's sales. Request a demo today!