Aside from the actual storefront, the most visible presence that a restaurant has is on Google. Thankfully, Google My Business features allow you to have a significant level of control over how your business appears on google. Making small changes and taking advantage of little-known features can make a huge difference to your online brand, and help you really stand out. Let's take a quick look at four such features that restaurant owners commonly overlook.
1. Google Posts
Google posts is accessed through the Google My Business listing page. This feature empowers restaurant owners/managers to post messages upwards of 300 words along with a link, videos, images and more. 
The purpose of Google Posts is to help prospective customers learn more about the restaurant, make reservations, sign up for an email list, order food and/or get special offers. This feature also empowers you to establish events with specific start/end times. 
Take advantage of Google Posts and those who look up your business on the web will view your posts by way of the knowledge graph or its equivalent on mobile devices.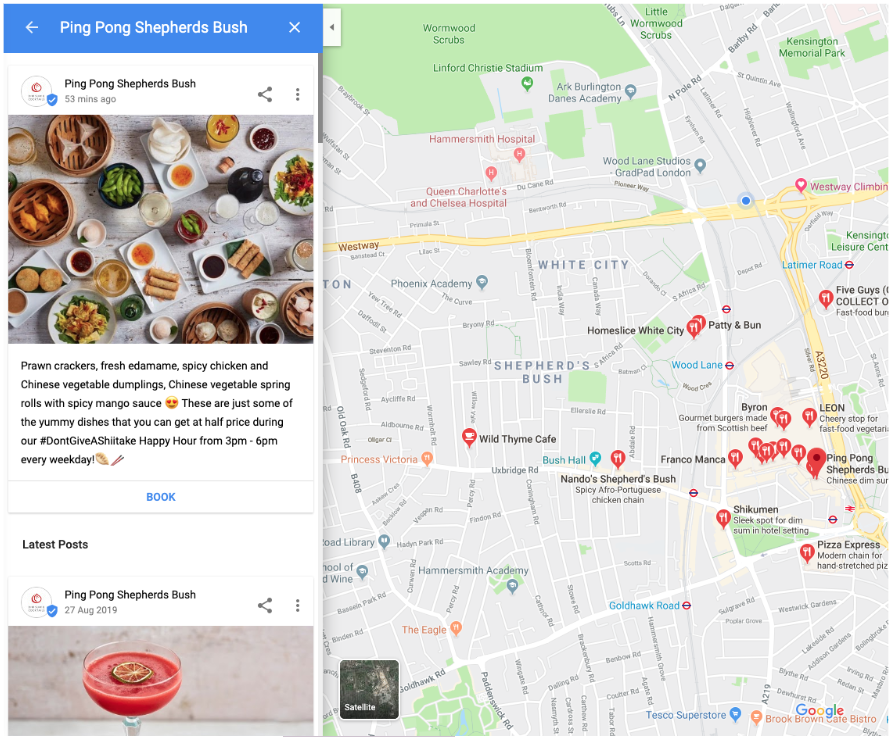 The information you post to Google posts serves as an easy way to inform potential customers about your restaurant directly through your Google My Business profile.  Google lets you post everything from regular text to GIFS, videos and pictures in your posts.


These posts are set to automatically expire in a week's time. In other words, Google posts are restaurant status updates of sorts. You can add updates upwards of a week prior to the special events in question. The post will disappear after the event without the need to alter anything on your end. Restaurant owners are permitted to post upwards of 10 updates at once.
2. Questions and Answers 
Google users can now post questions directly to a Google My Business profile. This important means of engaging prospective customers provides you with the opportunity to answer diners' questions in-depth. As an example, prospective customers might be looking for an establishment with free Wi-Fi, convenient parking, or vegetarian fare.


The questions posed and answers posted will remain on your restaurant's Google Profile for posterity so prospective visitors can learn about your restaurant's offerings and amenities without performing extensive online research.
3. Book a Table Links
Google My Business empowers you to add booking links directly to your restaurant's profile. This tool lets diners make rapid reservations through the loading of booking widgets or a booking-enabled site. However, in order to maximise the utility of this feature, a digital reservation system will be necessary that allows for bookings over the web. Restaurant owners/managers can also add distinct links for table reservations, the menu and placing an order for delivery.
4. Events
Especially useful for pubs, bars, and clubs, the events feature allows you to feature upcoming events directly on your Google My Business Profile. The events will show up in the knowledge graph and also in google maps, allowing you to gain a tonne of extra visibility for your quiz, club night, or gig.
The events feature also allows you to add a link, for example to an eventbrite page, so your prospects can learn more or book tickets. 
Get the Most Out of Today's Technology
If you are not currently tapping into the power of Google My Business features, you're missing out on some very easy wins. Taking advantage of the features noted above can quickly increase your customer count and swell your bottom line. 


As a bonus, it seems that the masterminds at Google will reward you for keeping a more complete profile by giving your business extra visibility in search results and on maps searches. Depending on where you're located, this alone could also have a huge impact on your business – making using these features even more of a no-brainer.
About the Author:
Marla DiCarlo is an accomplished business consultant with more than 28 years of professional accounting experience. As co-owner and CEO of Raincatcher, she helps business owners sell their business so they can get paid the maximum value for their company.